It's a sure sign of spring. Love is in bloom at We Energies power plants. Some fan-favorite
peregrine falcons
have returned to roost, and introductions are in order thanks to our partners at Wisconsin Public Service.
Oak Creek Power Plant
Michael and Eurus are back at the
Oak Creek nest box
. Michael hatched in 2015 at the Racine County Courthouse nest site. This will be his third year at Oak Creek and second year he's mated with Eurus. She hatched at a nest site in Green Bay in 2016.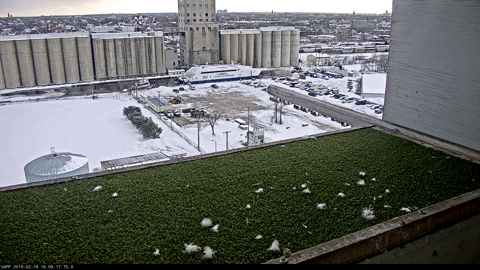 Hercules and his mysterious mate have returned to Milwaukee. Hercules hatched at St. Joseph's hospital in Milwaukee in 2011. This will be his sixth year at the
Valley nest box
. We don't know much about his lady bird, because she is unbanded. Banding occurs when scientists attach a small, individually numbered tag to a bird's leg to help track its movements. Our falcon expert, Greg Septon, believes this is the same female who's been present at Valley since 2015.
Port Washington Generating Station
Beasley and Brinn are back at
Port Washington
. This is Brinn's sixth year at the generating station nest box and Beasley's third. Beasley hatched in 2014 in Wauwatosa. Brinn comes all the way from Split Rock State Park in Minnesota, where she hatched in 2012.
Weston Power Plant
Thanks to our partners at Wisconsin Public Service (WPS), this is our first year tracking the falcons at
Weston Power Plant
just south of Wausau. Sheldon and Rosalee have both been spotted there. Sheldon has nested at Weston for five years. He hatched in 2013 in Oshkosh. His mate, Rosalee, has been nesting at Weston since 2015. She hatched in Madison in 2014.
Wisconsin Public Service Building
A new nest box has been installed at the
WPS building
in Green Bay. You may have noticed a pheasant wing is attached to the perch to attract falcons to the nest box. Falcons have recently been observed in the area, and it is likely just a matter of time before they locate their new home.
The first eggs should be laid later this month. Be sure to follow us on
Facebook
and
Twitter
for updates, and catch the action for yourself on our
live cameras.